Pic-a-Pix Puzzle Books: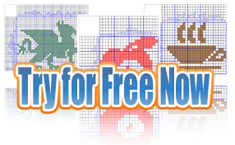 Dec. 1, 2011, the first book of picapix puzzles was published, "Pic-a-Pix The Latest Puzzling Fix"; each of its 100 puzzles hand-crafted by Diane C. Baher.  Nov. 10, 2012, the second book became available,  "Pic-a-Pix Puzzles Go West".  And in March, 2015, the third book arrived, "Pic-a-Pix Puzzles for Beginners".  A fourth book was published Apr. 2021, called "Pic-a-Pix for Seasoned Puzzlers".
Books sold here and at:  Amazon.ca;  Main Street Market & More, Okotoks, AB; Highwood Gallery & Gifts, High River, AB;  Because I Said So, Nanton, AB;   Coles Tamarack Shopping Centre, Cranbrook, BC.
With online orders, select the CORRECT SHIPPING, click UPDATE and proceed with your order.  This way we can be sure it reaches it's destination – YOU.   Send us a message or tell us who referred you.   Thank you for your order.