Pic-a-Pix Puzzle Books: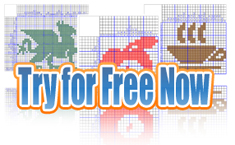 Dec. 1, 2011, the first book of picapix puzzles by this author was published, "Pic-a-Pix The Latest Puzzling Fix"; each of its 100 puzzles hand-crafted by Diane C. Baher.  Nov. 10, 2012, the second book of picapix puzzles became available,  "Pic-a-Pix Puzzles Go West".  And in March, 2015, the third book arrived, "Pic-a-Pix Puzzles for Beginners".
Books sold here of course, and:  Amazon.ca;  Okotoks Art Gallery/at the Station, Okotoks, AB; Shoppers Drug Mart, Okotoks, AB, and Shoppers Drug Mart, High River, AB;  Because I Said So, Nanton, AB; Value Drug Mart, Strathmore, AB; Market Street Vulcan, AB.  And most recently Indigo Signal Hill,  Chapters Spectrum Sunridge, Chapters Macleod Trail,  Coles Calgary International Airport, Coles Marlborough Mall, Chapters Crowfoot, Indigospirit TD Square, Calgary, AB.
While placing order, select the CORRECT SHIPPING, click UPDATE and proceed with your order.  This way we can be sure it reaches the destination – you.   Send us a message, or tell us who referred you.   Thank you for your order.